Aphid Control - LACEWING EGGS - Chrysoperla Carnea and Chrysoperla Rufilabris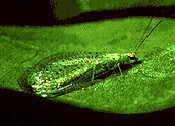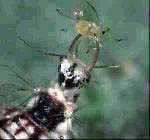 Description
The lacewing is a light green colored insect with lustrous eyes. It is an insectary grown predator. The oval shaped pale green eggs are "planted" on foliage at the end of short hair-like filaments. The larvae are grey-green and are known as "aphid lions". Complementing their voracious appetite for aphids, they also consume mealy bugs, red spider mites, thrips, some small worms and many different insect eggs and larva. The Lacewing larvae feed for about three weeks until they pupate by spinning a white colored cocoon. After about one week they emerge as adults to lay eggs. They are light green with transparent wings and grow to about 3/4 inch in length. The Lacewing are shipped in the egg stage in a container of rice hulls which makes distribution of the tiny eggs easier.
How it works
Female adults actively seek out colonizations of aphids. Mated females then lay their eggs among the aphids. The eggs hatch into larvae which then devour the aphids.
General usage
Greenhouse, fields, interiorscapes, orchards, and gardens. Use the eggs when you're in no great hurry to get rid of the aphids. Use the larvae for quick results. Use the adults as nomadic predators, ideal for tree applications.
Directions for use
Use the larvae when aphids (or other target pests) are present. Use the eggs as an inoculum only, most often used in gardens. The pupae and adults are for orchard applications only. Use the adults only in row crops.
For more information, see detailed instructions.
Advisories
IMPORTANT - LACEWING LARVAE IN A BOTTLE MAY DEVOUR EACH OTHER DURING STORAGE OR EXTENDED DELIVERY PERIODS. WE RECOMMEND SHIPPING BY NEXT DAY AIR OR YOU CAN ORDER LARVAE IN THE PROTECTIVE HEXCELL PACK.

Larvae are shipped in rice hulls. The larvae are very small and slow moving and are also about the same color as the rice hulls - so they are very difficult to see in contrast to the rice hulls. Even then, they are quite difficult to see.

For optimum results, have lacewing larvae shipped by Next Day Air and release them as soon as you receive them.
Application rates
For gardens and greenhouses use approximately 1,000 Lacewing eggs per 500 square feet. For larger fields and orchards we suggest approximately 5,000 Lacewing eggs per acre.
Related information
Beneficial insect info from The Green Spot
Information from Cornell University
Aphid Control - LACEWING EGGS - Chrysoperla Carnea and Chrysoperla Rufilabris
| Item | Coverage | Price | Ship Info | Qty | |
| --- | --- | --- | --- | --- | --- |