Grub control - Beneficial Nematodes - Hb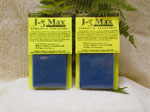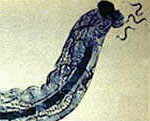 How it works
The Hb type of nematodes patrol the soil to a depth of 7" and quickly take care of the slow-moving grubs - like Japanese Beetle grubs and chafers - that inhabitat the deeper layers of the soil. They like warm soil; when the soil temperature drops below 68 degrees F, Hb becomes less effective.
General usage
Use on lawns, in flower and vegetable gardens, fields, orchards, and greenhouses.
Directions for use
Use a hand sprayer, hose end sprayer, or pressurized back-pack sprayer, depending on the size of your area.
Nematodes are neutralized by exposure to strong sunlight, so they must be applied in heavily overcast or rainy conditions. Dusk or during rainfall is an ideal time. Nematodes prefer a moist environment. If the ground is very dry, it helps to pre-water the area you want to treat.
For more information, see detailed instructions.
Advisories
PLEASE READ SHIPPING POLICY BEFORE ORDERING.

FREE SHIPPING by UPS 2nd Day Air. Order by Wednesday noon (EST) to ensure delivery the following week. IMPORTANT - IF DAYTIME TEMPS WHERE YOU LIVE ARE ABOVE 75 DEGREES AT TIME OF ORDER, WE RECOMMEND SHIPPING BY NEXT DAY AIR (ADDITIONAL $21) TO SAFEGUARD AND GUARANTEE YOUR ORDER
Application rates
Use 1 million per 2,000 square feet. We recommend repeat applications during the course of the season.
Related information
Beneficial insect info from The Green Spot
Information from Cornell University.
Excellent slide show courtesy of University of North Carolina.
Using nematodes for turfgrass pest management, courtesy of Dr.Parwinder Grewal, Ohio State University

Grub control - Beneficial Nematodes - Hb
| Item | Coverage | Price | Ship Info | Qty | |
| --- | --- | --- | --- | --- | --- |