Spider Mite control (Neoseiulus fallacis)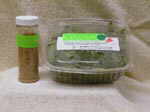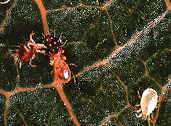 How it works
Adult females lay eggs amongst spider mite concentrations and their webbing. The eggs hatch into small larvae which develop into nymphal forms before reaching adulthood. Both larvae and nymphs are predators.
General usage
Use in greenhouses, interiorscapes, outdoor straw- and cane-berries. Also use on ornamentals, bedding plants, hedges, in trees, orchards, and fields.
Directions for use
For more information, see detailed instructions.
Application rates
Prevention: N/A
Control light: 7-11 per sq.yd - release tri-weekly x 2-3
Control medium 10-18 per sq.yd - release bi-weekly x 2-4
Control heavy: 17-29 per sq.yd - release bi-weekly x 2-4
Maintenance: 4-9 per sq.yd - release - release monthly indefinitely
Gardens: release 45-65% of rates above
Acre +: release 25-40% rates above
Comments: for tomatoes and other solanaceous plants, double rates above.
Related information
Beneficial insect info from The Green Spot

Spider Mite control (Neoseiulus fallacis)
| Item | Coverage | Price | Ship Info | Qty | |
| --- | --- | --- | --- | --- | --- |