Aphid Control - LADYBUGS - Hippodamia Convergens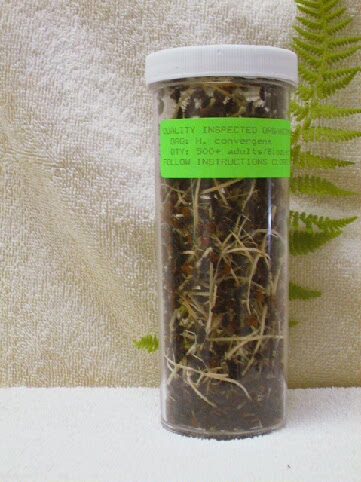 Description
Ladybugs, the most commonly known of all beneficial insects, are not only effective but are economically important. They are gathered from their natural habitat in the California Sierra Mountain foothills. They feed on may different soft bodied insects with aphids being their main food source. During the larval period the ladybug resembles a tiny, black, six-legged alligator with orange spots. As a larva it will gorge on about 400 aphids. After 3 or 4 weeks it attaches to a leaf or twig and enters the pupal stage. In another week the pupal skin splits and a hungry young adult emerges to eat another 5,000 aphids. Up to 1,500 tiny yellow eggs may be deposited in clusters of 10 to 50 in just a few weeks. In good years several generations may be produced. The Ladybug's huge appetite and reproductive capacity allow it to rapidly clean out its prey.
How it works
Adult beetles seek out and devour aphids. In addition, the female beetles lay up to 50 eggs per day. The usually lay these orange, football-shaped eggs on the upper-sides of leaves on infested plants. The eggs hatch into black, alligator-like larvae with orange markings. The larvae are also fierce predators, devouring up to 400 aphids.
General usage
Any location where aphids are a potential or actual pest.
Directions for use
For more information, see detailed instructions.
Advisories
PLEASE READ SHIPPING POLICY BEFORE ORDERING. Prices include handling & shipping by 2nd Day Air.
Application rates
1/2 pint covers 2,500 square feet; pint covers 5,000 square feet; quart covers 15,000 square feet. For farms and other large scale areas please contact us for details.
Related information
Beneficial insect info from The Green Spot

Aphid Control - LADYBUGS - Hippodamia Convergens
| Unit | Coverage | Price | Ship Info | Qty | |
| --- | --- | --- | --- | --- | --- |