Caterpillar Control - TRICHOGRAMMA -Tricos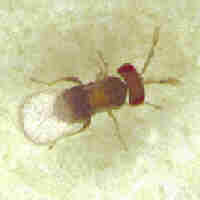 Description
Trichogramma are tiny insectary grown wasps that attack over 200 pest species including the eggs of codling moth, fruitworms, cane borers, corn earthworms and almost all moth and butterfly eggs that hatch into worm pests. The parasite is effective by killing the pests before they damage the plant. By suppressing the life cycle of the pests, there is a reduction in the number of eggs, which results in fewer pest insects surviving to adulthood. Trichogramma are shipped while still parasitized in the host egg. They are very small, 5 of them could fit together on the end of a pencil point. Trichograma should be released at the first sign of moths. We recommend a bi-weekly (every two weeks) release as long as the moths are present.
How it works
Adult wasps lay up to 300 eggs each, parasitizing an equivalent number of soon-to-be destructive caterpillars, loopers, and worms.
General usage
Ideal for an orchard, tall crop, or garden situation. Also useful in greenhouses and interiorscapes.
Directions for use
For more information, see detailed instructions.
Advisories
PLEASE READ SHIPPING POLICY BEFORE ORDERING.

FREE SHIPPING by UPS 2nd Day Air. Order by Wednesday noon (EST) to ensure delivery the following week. IMPORTANT - IF DAYTIME TEMPS WHERE YOU LIVE ARE ABOVE 75 DEGREES AT TIME OF ORDER, WE RECOMMEND SHIPPING BY NEXT DAY AIR (ADDITIONAL $21) TO SAFEGUARD AND GUARANTEE YOUR ORDER
Application rates
Each square (approximately 5,000 eggs) covers an area up to 170 square feet. For large areas release approximately 40,000 per acre.
Related information
Beneficial insect info from The Green Spot

Caterpillar Control - TRICHOGRAMMA -Tricos
| Unit | Coverage | Price | Ship Info | Qty | |
| --- | --- | --- | --- | --- | --- |