Copper Dust 7% (Bordeaux)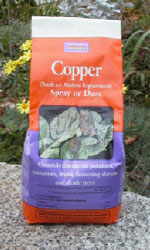 Description
Insecticide-fungicide dust for use on vegetables, fruit trees, and flowers to control insects, blights, leaf spot, mildew, and other diseases. Use as a dust or spray.
General usage
Use on home garden fruits, vegetables, and flowers.
Directions for use
Follow manufacturer's instructions.
Advisories
For home garden use only.
Application rates
Rates vary; follow instructions.
Copper Dust 7% (Bordeaux)