Corn Gluten Meal 9-0-0 (Granulated)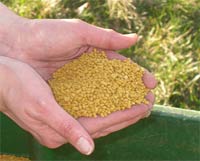 Description
Corn gluten meal is an all-natural plant product – rich in nitrogen – consisting entirely of a dried protein separated from corn during the manufacture of starch for the food industry. In fact, corn gluten is an ingredient in many feed products.
How it works
Corn gluten provides an organic source of nitrogen for your lawns, flower beds and vegetable gardens.
Directions for use
Caution: Don't apply corn gluten when you plant seeds; it may inhibit seed development. Apply at a rate of 20 lbs per 1,000 square feet.
Application rates
20lbs/1000sqft
Related information
Information from Iowa State University
Corn Gluten Meal 9-0-0 (Granulated)