Dipel 150 Dust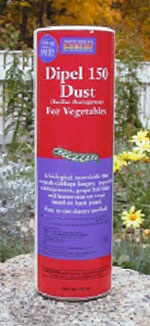 Description
A biological insecticide that effectively controls chewing larvae (caterpillars) pests that damage flowers, vegetables, lawns, and fruit. Controlled pests include: cabbage looper, imported cabbageworm, grape leaf folder, and hornworm.
How it works
Contains the bacteria, bacillus thuringiensis (Bt). The targeted pests ingest the bacteria, which then infects and kills them.
General usage
Use on vegetables, lawns, flowers, vines, and fruit.
Directions for use
Apply when you first notice pests. Follow instructions that accompany product.
Advisories
Even organic and natural products can be harmful if used incorrectly. For more information about the toxicology of any product, see the excellent Extoxnet database.
Application rates
Rates vary; follow manufacturer's directions based on the crop and pest.