Garlic Barrier Insect Repellent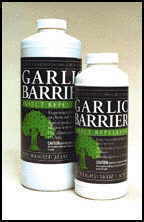 Description
A strong liquid garlic concentrate, dilutes in water and is sprayed on farm and garden plants to keep insects off. EPA registered. Odorless in minutes. Listed for organic farms by OMRI and CCOF. No chemicals, non-toxic.
How it works
Garlic is absorbed through pores (stomata) on plant foliage and travels systemically throughout the entire plant. It protects roots, stems, leaves, flowers, and fruit. It does not alter the taste or smell of any part of the plant to humans or livestock.
General usage
Use in areas that attract mosquitoes, gnats, deer flies and other pests to humans, pets, and livestock. The key to using garlic effectively as a repellent is to apply it to plants before there is a pest problem.
Directions for use
Mix one part of Garlic Barrier with 10 parts water (gallon size mix with 100 parts of water). Apply as a fine mist on plant foliage at a rate of one gallon of diluted mix per acre (43,000 sq.ft.). For best results, apply early morning or early evening when plants' stomata are more widely opened.
Note: For effective mosquito control, apply Garlic Barrier as follows:
Gallon size: mix 50 parts of water with one part Garlic Barrier (include several tablespoons of canola oil or liquid soap to help the application "stick".
Pint and Quart sizes: mix 5 parts of water with one part Garlic Barrier.
Garlic Barrier Insect Repellent