Monterey Garden Insect Spray (Spinosad)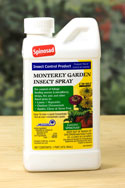 Description
This is a new agricultural chemistry introduced into the homeowner market. Produced by fermentation, it can be used on outdoor ornaments, lawns, vegetables, and fruit trees to control caterpillars, leafminers, thrips, borers, beetles and more. Also used to control fire ants in lawns and other outdoor areas.
Advisories
Cannot be sold/shipped to Michigan.
Monterey Garden Insect Spray (Spinosad)