Mosquito Barrier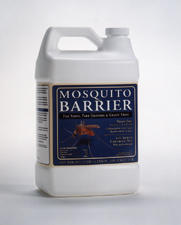 Description
The safest way to control mosquitos. A strong liquid garlic concentrate, dilutes in water and is sprayed on farm and garden plants to keep insects off. EPA registered. Odorless in minutes. No chemicals, non-toxic.
How it works
Garlic is absorbed through pores (stomata) on plant foliage and travels systemically throughout the entire plant. It protects roots, stems, leaves, flowers, and fruit. It does not alter the taste or smell of any part of the plant to humans or livestock.
General usage
Use in areas that attract mosquitoes, gnats, deer flies and other pests to humans, pets, and livestock. The key to using garlic effectively as a repellent is to apply it to plants before there is a pest problem.
Directions for use
1 gallon of Mosquito Barrier mixed with 1 gallon of either canola, soy bean or cotton seed oil. Add 98 gallons of water and 8 ounces of Palmolive liquid dishwashing soap or (as an alternative) 1 gallon of insecticidal soap (available from local nurseries).
Using a droplet size of 350-400 microns or medium size mist (not large droplets) cover all grass, standing water, shrubs, into tree branches up to about 12 feet and under porches and decks where water may be standing. Spray the shorelines of creeks or ponds (mosquitoes are also born in mud). Best spraying time is late in the afternoon 1 hour before sundown. Mix well.
Application rates
Best results are achieved by using 20 gallons of water per acre, plus 25 ounces of one of the recommended oils and 2 ounces of soap. 3-4 applications in early summer will greatly inhibit mosquitos from staying in the treated areas.