Nature's Own Spray Helper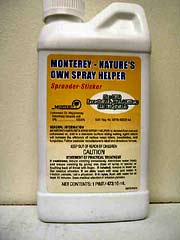 Description
This spreader/sticker is made from cottonseed oil. Use it as a wetting agent with insecticides, herbicides, and fungicides to make them more effective. Safe on lawns, ornaments, fruit and nut trees, and vegetable crops.
Advisories
NOTE: Not all products on this page are registered for sale in all states. Please contact us to verify if a product is available for sale to your state.
Nature's Own Spray Helper