Whitefly control - B-Whitefly Parasitoid (Eretmocerus erimicus)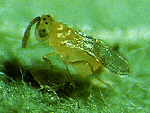 General usage
Greenhouses, interiorscapes, orchards, fields and nurseries in the southern US.
Directions for use
See release instructions for details.
Application rates
Prevention: 6-8 per sq.yard - bi-weekly as needed
Control light: 9-13 per sq.yard - release weekly x 3-4
Control medium 14-18 per sq.yard - release weekly x 3-5
Control heavy: N/A
Maintenance: release 7-9 per square yard - tri-weekly indefinitely
Gardens: N/A
N/A
Comments: if you wish to experiment with outdoor uses, try 50-75% rates above.
Related information
Beneficial insect info from The Green Spot

Whitefly control - B-Whitefly Parasitoid (Eretmocerus erimicus)
| Unit | Coverage | Price | Ship Info | Qty | |
| --- | --- | --- | --- | --- | --- |