Yuccah (Yucca liquid concentrate)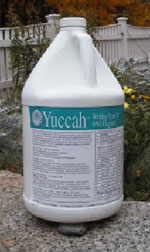 Description
A natural wetting agent from the Yucca schidigera plant. Ideal for integrated pest management (IPM) programs. The benefits of Yuccah include:
Alleviates compaction and hydrophobic conditions
Stimulates beneficial microbia activity
Safe, organic, non-scorching formulation
Completely non-toxic and will not burn plants.
How it works
Yuccah stimulates both the growth of plants and the populations of beneficial soil bacteria.
General usage
Yuccah is compatible with all liquid fertilizers, bio-stimulants, and pest controls.
Directions for use
Apply with water or spray according to directions.
Advisories
Do not apply directly to ponds or lakes.
Application rates
Rates vary; follow instructions from manufacturer.
Yuccah (Yucca liquid concentrate)